New version of MeasureMe released
I have done a little bit of tidying up in MeasureMe and published a new version to the play store.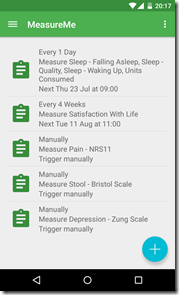 I have made manual measurements easier to trigger, by using the icon next to the measure on the main screen. This enables a measurement to be taken immediately. I have also added new scales for anxiety and depression as well as adding a spreadsheet to the example spreadsheet folder.